County Longford and the 1916 Rising
In common with most counties in Ireland, there was no Easter Rising in Longford due to the confusion that preceeded its outbreak. Some telegraph wires were cut and there was at least one attempt at road-blocking. However, there were Longford men and women involved in Dublin and Ashbourne. Fifteen have been confirmed, ten of whom were natives of the county. The other five lived in Longford and had strong associations with it. They were as follows: Thomas Bannon, Patrick Belton, Patrick Connaughton, Patrick Doyle, Ms Doyle, John V. Joyce, Brigid Lyons Thornton, Alfred MacHugh, Michael McGrath, Seán McGrath, Francis McGuinness, Joseph McGuinness, Rose McGuinness, Áine Ní Riain and Éilis Ní Riain (Bean Uí Chonaill). Most of the men were Volunteers, except Belton and MacHugh, the latter being a member of the Irish Citizen Army. The women were members of Cumann na mBan.
Frank McGuinness, his niece Brigid Lyons and local teacher Tom Bannon travelled to Dublin by car on Tuesday when it was confirmed that the rising had begun. They succeeded in getting into the city because of Frank's position as a Justice of the Peace. A small number of others attempted to get through but failed to do so.
The legacy of the rising was very significant in the county. The rise of Sinn Féin in 1917 was due in part to some by-election victories, one of which was in South Longford in May. Joe McGuinness, then in Lewes Gaol for his role in the rising, was nominated a candidate and the popular campaign slogan was 'Put him in to get him out'. McGuinness defeated the Home Rule candidate, Patrick McKenna in a result that shocked the establishment. The campaign was intense and involved numerous major figures in Sinn Féin including Michael Collins. McGuinness's victory brought Longford into focus and it inspired many locals to become politically active. It is also clear from the testimony of many activists from various places that the by-election campaign helped to create and cement friendships amongst those involved in it. It also energised the wider movement.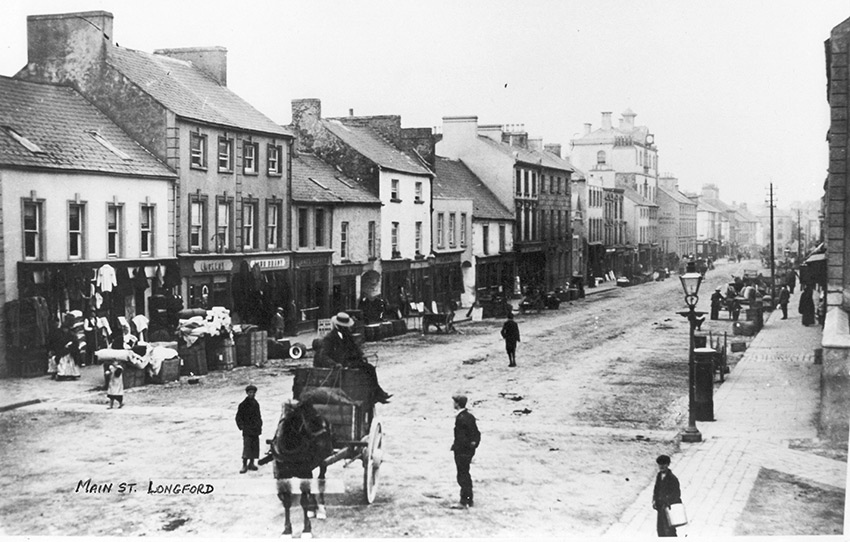 Main Street Longford in the early 1900's